Get the Facts about the covid-19 vaccine.
You've got questions, we've got answers.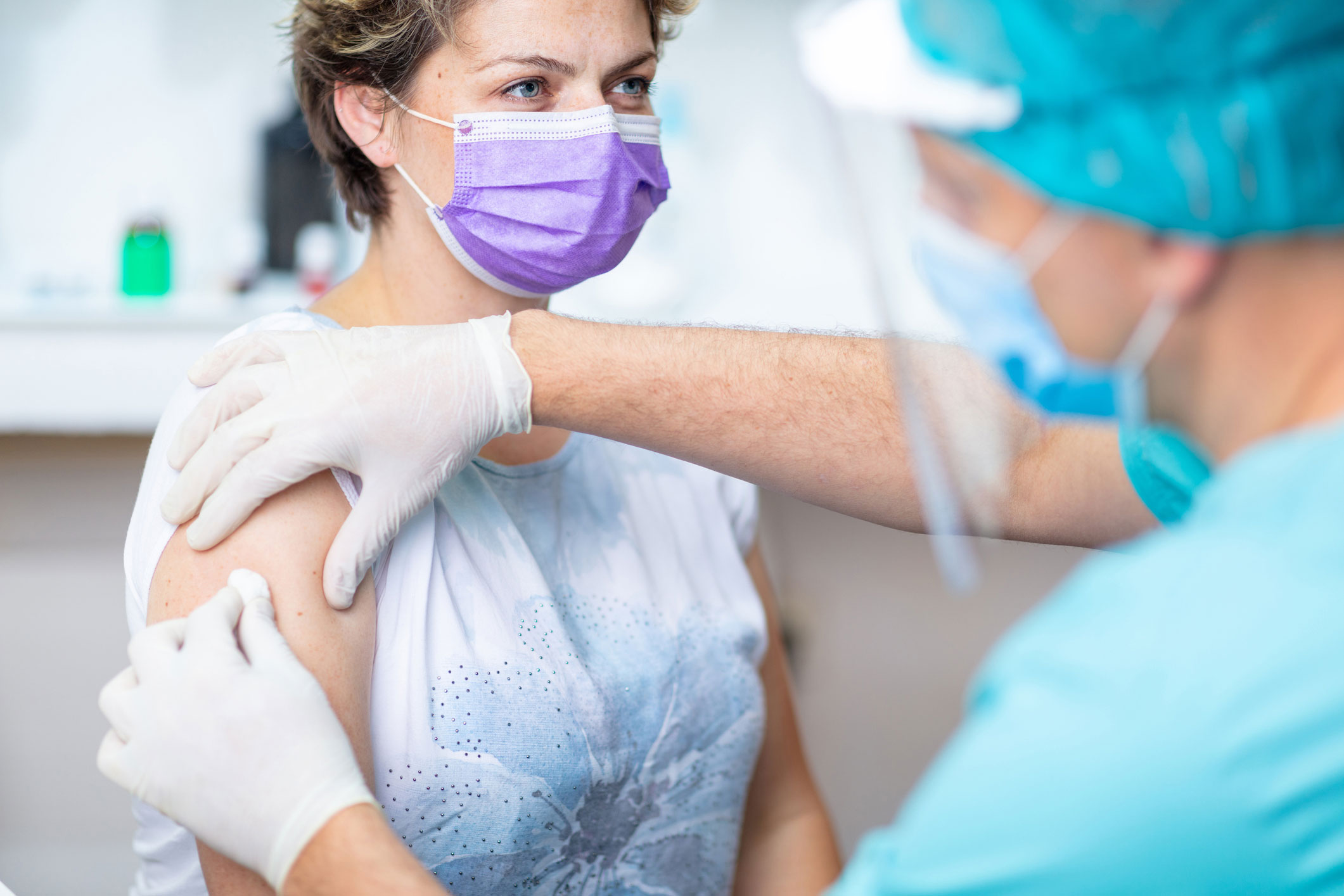 Health
The best scientists in the world have answers for all of your questions about your health, your safety, & the coronavirus vaccine.
Will the COVID-19 vaccine give me COVID-19?
No. None of the COVID-19 vaccines contain the live virus that causes COVID-19. The goal for each vaccine is to teach our immune systems how to recognize and fight the virus that causes COVID-19. Sometimes this process can cause symptoms such as fever. These symptoms are normal and are a sign that the body is building immunity.
If I have already had COVID-19 and recovered, do I still need to get vaccinated with a COVID-19 vaccine?
Yes, you should be vaccinated regardless of whether you already had COVID-19. That's because experts do not yet know how long you are protected from getting sick again after recovering from COVID-19. Even if you have already recovered from COVID-19, it is possible—although rare—that you could be infected with the virus that causes COVID-19 again. Learn more about why getting vaccinated is a safer way to build protection than getting infected.
If you were treated for COVID-19 with monoclonal antibodies or convalescent plasma, you should wait 90 days before getting a COVID-19 vaccine. Talk to your doctor if you are unsure what treatments you received or if you have more questions about getting a COVID-19 vaccine.
Experts are still learning more about how long vaccines protect against COVID-19 in real-world conditions. CDC will keep the public informed as new evidence becomes available.
How will I know that the COVID-19 vaccine is safe?
Clinical trials involving many thousands of participants are used to investigate possible COVID19 vaccines. These studies generate scientific data and other information that the Food and Drug Administration (FDA) uses to determine vaccine safety and effectiveness. After the FDA makes its determination, an independent group of scientific experts – the Advisory Committee on Immunization Practices (ACIP) – reviews available data before making vaccine recommendations to the CDC. Both of these processes have been completed for three different vaccines: 
Pfizer-BioNTech COVID-19 Vaccine

Moderna, Inc. Vaccine 

Johnson & Johnson/Janssen Vaccine 
That means that the scientific data from the research on each of these vaccines has been reviewed by two independent teams of experts. Even after this approval, vaccine safety monitoring systems watch for adverse events (possible side effects). If an unexpected adverse event is observed, experts quickly study it further to assess whether it was caused by the vaccine and whether it is a true safety concern. 
You can read more about the many strategies for ensuring the safety of COVID-19 vaccines in the United States at the CDC's website: https://www.cdc.gov/coronavirus/2019- ncov/vaccines/safety.html 
For every vaccine approved for use by the FDA and ACIP, the site provides information on safety, effectiveness, recommended populations to receive the vaccine, and side effects, if any
Do the COVID-19 vaccines contain any heavy metals (e.g. mercury), preservatives, and/or animal byproducts?
Were the COVID-19 vaccines made in fetal cell lines?
The mRNA vaccines (those by Pfizer and Moderna) do not contain fetal cells. The Johnson & Johnson/Janssen COVID-19 vaccine needs special cells in which to grow the vaccine virus and make the vaccine. These cells were originally isolated from fetal tissue of a fetus that was aborted in 1985. This cell line, called the PER.C6 cell line, has been maintained in the laboratory ever since, and no fetal tissue has been added since the cell line was originally created. In December 2020, the Vatican advised that a vaccine that is produced with these cells is "morally acceptable," because of the "remote" connection of today's cell lines to their origin in 1985, and the "grave danger" presented by "the pandemic spread of the SARS-CoV-2 virus that causes COVID-19." 
Looking for more information
Get answers about the health and safety of the vaccine from the professionals at:
Why do I have to create a profile?
A profile helps the New Mexico Department of Health (NMDOH) identify that you are interested in receiving the COVID-19 Vaccine. NMDOH will use your profile information to connect you to a vaccine provider within your community when the vaccine is available for you.
How will the Department of Health use my profile information?
Your profile information will be used to connect you to a vaccine provider within your community when the vaccine is available for you. The information collected in this registration tool will only be accessed by New Mexico Department of Health and will not be shared outside of public health and the provider who is administering your vaccine.
I've completed my profile, when can I schedule my appointment?
Great! The New Mexico Department of Health will notify you by text message or email when vaccine is available for you in your community.
I've been waiting a long time. When will I get a notification to schedule my appointment?
Please keep in mind the supply of vaccine is extremely limited. The goal is for everyone to be able to easily get a COVID-19 vaccine when large quantities are available. Until that time, the New Mexico Department of Health is rolling the vaccine out in a phased approach. Please visit https://cv.nmhealth.org/covid-vaccine/ to learn more.
I've scheduled an appointment. What else do I need to do?
Please make sure you complete the medical questionnaire on the day of your appointment. You will not be able to complete the questionnaire until the day of your appointment.
When will I get my second shot of Pfizer or Moderna?
Once your initial vaccine has been administered, your second appointment will be scheduled by the system. You will receive your second appointment details via text message or email. This notification may not be immediate and may be sent a few days after your initial vaccine was administered.
Looking for more information
Get answers about New Mexico's vaccine distribution at:
Am I
eligible

to

receive

the vaccine?
All New Mexicans age 12 and older are eligible for COVID-19 vaccine.
Trusted Voices
Influencers from around New Mexico have advocated for the vaccine to make sure you know that your neighbors, colleagues, and friends believe in the science of the COVID-19 vaccine.
Register Now
New Mexico is managing the rollout of this vaccine as quickly as the state receives doses. When a vaccine is available, we'll contact you ASAP.
Please use this tool to register with the New Mexico Department of Health (NMDOH). When vaccine is available, NMDOH will send you a notification to schedule your appointment.
Users who have questions or would like support with the registration process – including New Mexicans who do not have internet access – can dial 1-855-600-3453, press option 0 for vaccine questions, and then option 4 for tech support.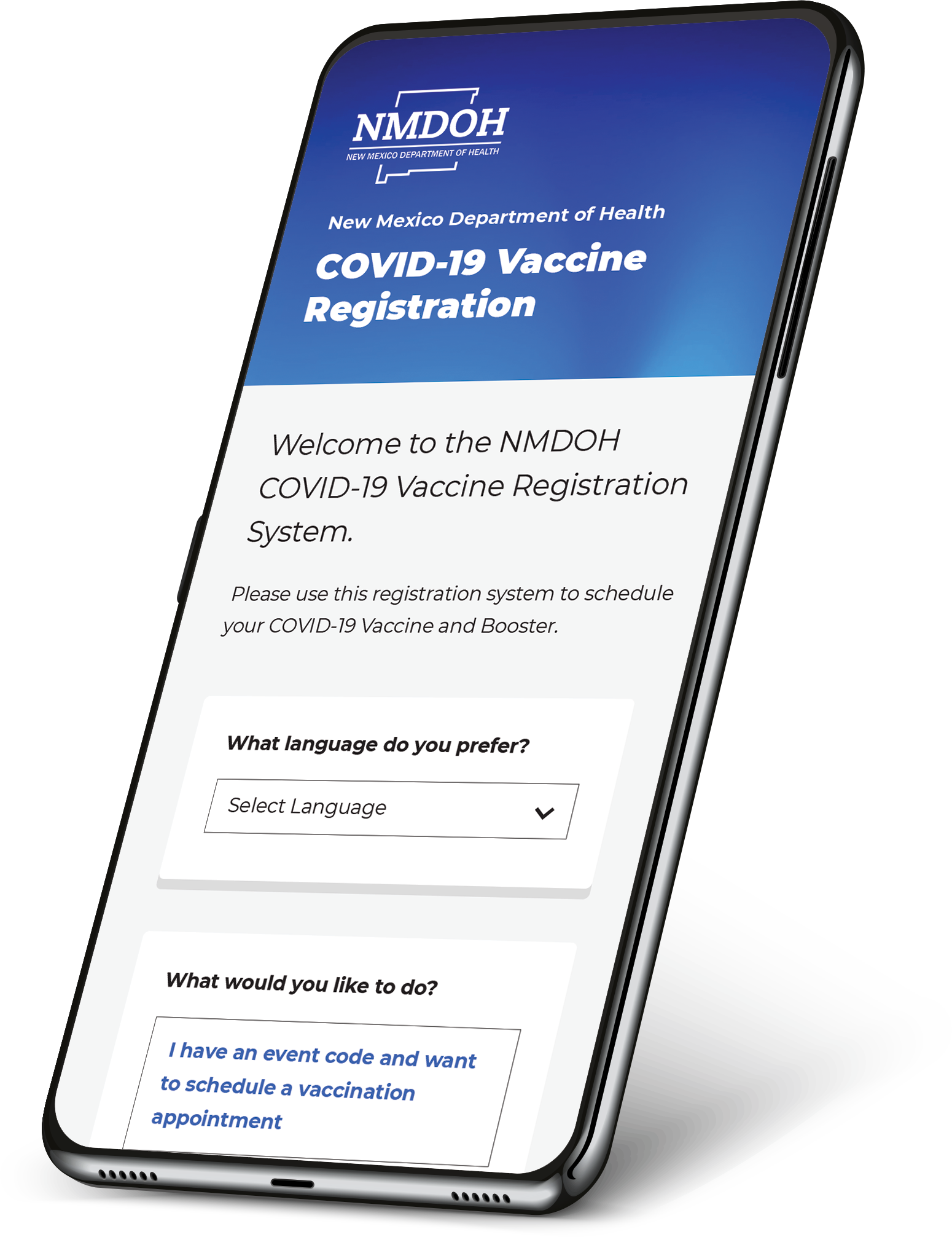 additional covid-19 vaccine resources from trusted partners